Features
Trevor's Top 10 Most Anticipated Albums of 2017
Trevor Davies
January 18th, 2017
2017 is shaping up to be a year filled with big name releases. Below I've listed 10 albums in alphabetical order that I'm really looking forward to in the upcoming year. Album titles, release dates and other information is listed if it's been publicly announced by the artist.
Here's to a great year of music.
---
Arcade Fire
Arcade Fire will be following up their 2013 release Reflektor. In a Reddit AMA, front man Will Butler said the next album could be coming in spring 2017. I hope the band's fifth album is reminiscent of The Suburbs. While Reflektor was good, I wasn't entirely impressed with the direction that the band was heading.
Beck
Beck will be following up his 2014 release Morning Phase, which granted him the Album of the Year Grammy (to many's surprise). The music he's released since his 2014 release has many thinking he's heading towards a pop phase. "Dreams" is my favorite track released so far, many will disagree, but if the new album is anything like this I'll be very happy.
Drake – More Life
More Life was slated for a December release, however, it has since been pushed back. Drake said it isn't an album, or a mixtape, rather a playlist (whatever that means…). However, we do know the playlist will include "Fake Love" (which sounds like a "Hotline Bling" beat throwaway), "Sneakin'" (feat. 21 Savage), and "Two Birds, One Stone."
Father John Misty
Late in 2016 Josh Tillman said that the next Father John Misty album is complete. This will be his followup to his spectacular 2015 release I Love You, Honeybear (my 2015 album of the year). In the summer of 2016 Tillman released the track "Real Love Baby," which is one of the most strip backed songs he's released this far. I can't wait to see what Josh Tillman has to say about Donald Trump's America. Hurry please.
Fleet Foxes
In November the band replied to a comment on their instagram regarding if the new album is done with "Alllllmost done." Since then the band have released a small handful of tour dates. Front man Robin Pecknold has also said that the new album will be 11 tracks, and be around 55 minutes in length.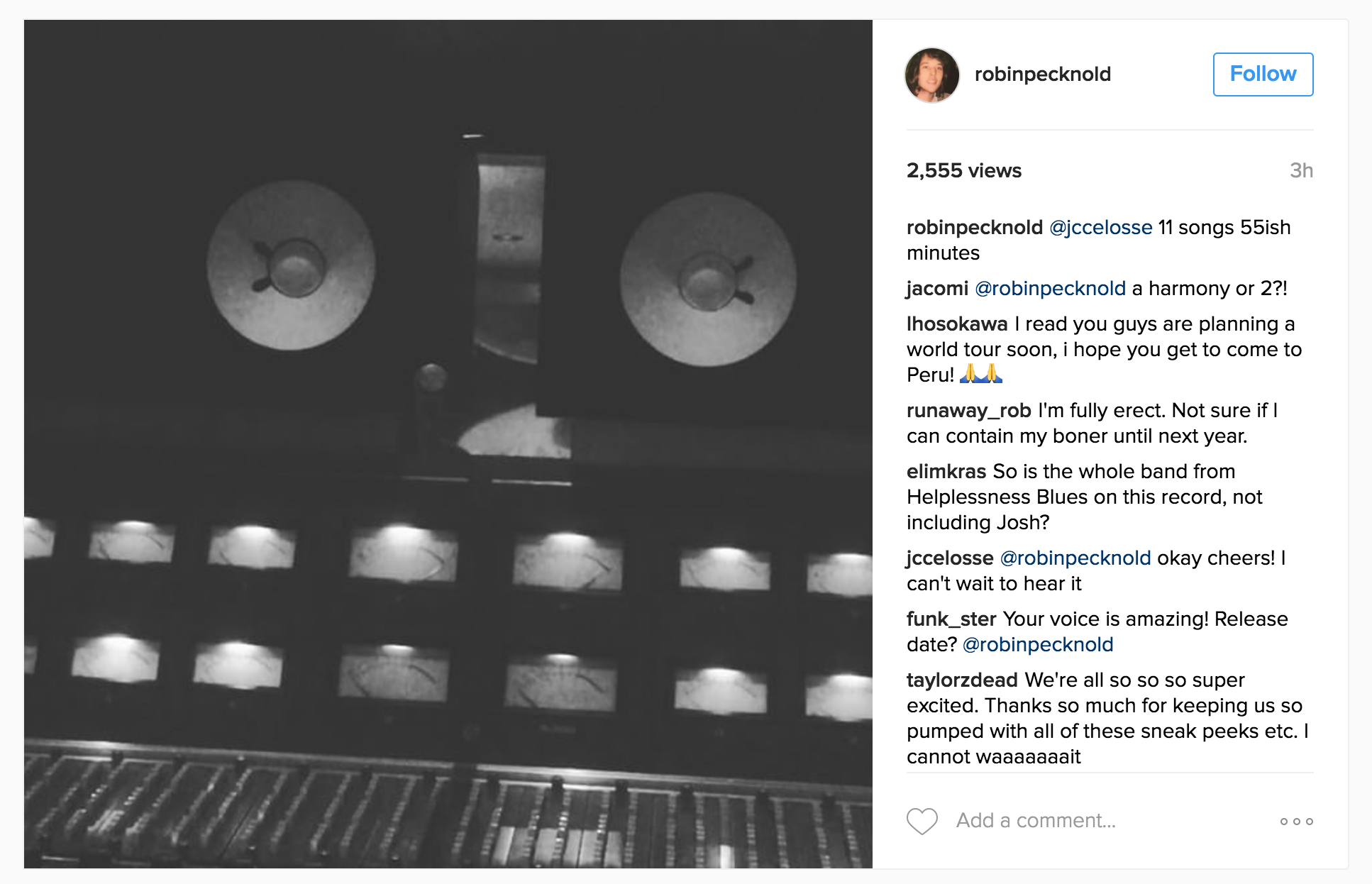 The National
In late spring of 2016 the band's guitarist Aaron Dessner, said that the band was ready to start recording their followup to 2013's Trouble Will Find Me. Front man Matt Berninger is coming off of his 2015 project with Brent Knopf, EL VY. If there's one thing we know about the upcoming album, we know it'll be heart wrenching just like every other National record.
Queens of the Stone Age
The Joshua Tree rockers plan on following up their 2013 release …Like Clockwork this year.
Mastodon's Troy Sanders had this to say in an interview with Rolling Stone, "I like to think none of us needs this band, but we all really want this band. When that's the mentality, this is special to the four of us. Otherwise, we wouldn't dedicate the first week of 2017 to working on this band. For example, Queens of the Stone Age, Mastodon and At the Drive-In have all been recording, and we all have new records coming out this year. We've all been extremely busy writing and recording, and we're about to get super busy touring the world. So I believe we're all fulfilled to a certain degree with all we have going on."
Words cannot describe how excited I am for a new Queens record. …Like Clockwork is one of the best albums released in the 201x's this far, and I can't even begin to imagine what Josh Homme and crew have next up their sleeve. It's also been confirmed that the same Queens lineup will be on the next record, "Same lineup, we're locked in" said Homme.
Sky Ferreira – Masochism
Sky Ferrerira has been teasing us with new music for almost two years now. In the summer of 2015 she said she'd tease some new music. Sadly, that was delayed to person issues. However, she then said her next album titled Masochism would be released in the summer of 2016. Obviously that didn't happen, so we're left to assume that we can see Masochism coming out in 2017.
Ty Segall – Ty Segall (January 27th)
I don't think I've seen anyone pump out more projects than garage rocker Ty Segall. Following up 2016's release Emotional Mugger, Segall is back with his second self titled album. I may or may not have already listened to it, but if I did, I'd be willing to bet it's VERY VERY VERY good.
Vampire Weekend
In early 2016 Vampy Week's Rostam Batmanglij left the band. While he made it very clear he will still be working with the band on upcoming music, he will no longer be touring with the band. Which is quite upsetting because his solo work is quite terrible. As of late, Ezra Koenig has changed his twitter bio to this: